Socialising Alone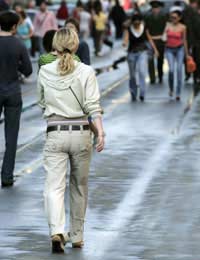 A big turn off for many people when it comes to going it alone, is the daunting thought of sitting in a vibrant town square watching everybody else having fun. Many people dream of visiting 'the most exciting cities in the world' - Paris, London, Barcelona, Rio - but the problem is, you just can't find anybody to go with. Not all of us are glittering social butterflies, who can flit from stranger to stranger making friends, having a laugh and charming everyone in our wake.
Going to that dream destination of yours alone may be the best decision you ever make, and as for gazing at a whole load of people having fun with their friends, well, there's such a thing as socialising alone, and it doesn't have to be as daunting as you think.
Plan Ahead
First of all, choose your destination and find out something about it. Check out where you're going to go and what you're going to do before you go, otherwise you may just end up walking in concentric circles around the Train Station. Ok, so your itinerary is sorted, but what about the evenings when you just want to chill out without a plan and let the city take you where it will? Check out what's on in terms of gigs or other public events - whatever's your poison - that's where you're most likely to find people you've got things in common with.
Hunt out the Atmosphere
Many cities with a warm climate have an atmosphere in those balmy evenings that emanates from certain open spaces - Montmartre in Paris, Las Ramblas in Barcelona, Piazza di Spagna in Rome - in such places you really can just let the city be your companion and soak up the atmosphere. In fact, you may even find yourself glad you came alone. You can immerse yourself completely in the place you chose to come to and momentarily forget about that other you from back home, which you wouldn't be able to do with your best friend by your side.
Things to Bear in Mind
If you do feel the need for human contact, here are a few things to bear in mind:
Relax - making new friends is exactly like the dating game - the more you seem to want it the less it'll happen for you. If you're relaxed and confident, and just as happy alone, you'll find people around you before you know it.
Communication - if you speak a bit of the lingo you'll have a great advantage; if you speak absolutely none of it, you may be better off keeping your ears pricked for a familiar voice - there are English speakers just about everywhere in the world. There's little point in trying to strike up a full blown conversation with someone you barely have two words in common with.
You are welcome here - Imagine how you'd treat a stranger in your town. Most people are welcoming and honoured that you chose their town to visit, even if they have millions of tourists every year.
Don't push it - just because you exchange a few friendly words with a stranger doesn't mean they want to be your best friend - remember that speaking in a foreign language can be a drag for them after a while so don't overstay your welcome.
Don't worry - you don't stick out like a sore thumb, especially if you're wearing a smile. In fact, being alone makes you approachable.
Don't lose heart - it may well be that you spend the whole night without talking to another soul. So what? Just soak up the atmosphere and let the city be your friend.
Many a happy holiday has been ruined by friends and family, so if you've got a dream destination and nobody else seems very enthusiastic about it, then go it alone. Smile and exchange a few friendly words with every waitress, shop assistant and anyone who you think you'd like to talk to. You may never see them again, or you may end up marrying them - who knows? Either way you'll come away with at least one new friend - the place itself.
You might also like...