Avoiding Muggings or Theft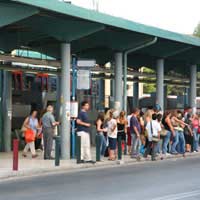 Muggings and theft constitute the single greatest danger to any kind of tourist or traveller from any part of the world. Current statistics, according to an independent study, state that a British tourist abroad is robbed every 31 seconds on average. That's more than a million a year. Most muggings and thefts take place in big cities, so if you're planning a city break, it's worth thinking about how you're going to protect yourself in advance.
Thieves and Muggers
Thieves and muggers usually do not work alone. They will usually be in a group of at least three and pickpockets may even be as young as five or six. They may well be armed and if caught in the act will often scream that you've attacked them. It's also worth noting that most do it through necessity, whether because of poverty or some kind of dependency. This means they hold little or no fear - after all, it's a full time job to them. Only fight back if you're absolutely sure you can't be hurt.
Targets
The popular theories that women are more susceptible than men to theft, and that lone travellers are also more vulnerable, are myths. The reality is that thieves make no distinctions based on sex or the size of your group, they identify targets in terms of how easy they look and the potential for rich pickings.
Crowded places are the pickpockets' paradise - where you're likely to be bumped into or brushed up against constantly. This can be any major attraction, famous building or monument, special event, public transport or bars and pubs.
Muggers, on the other hand, prefer lone victims for obvious reasons, particularly those under the influence of intoxicating substances. Western tourists, particularly in poor countries, are thought of as rich (which, in comparison, we generally are), and therefore fair game. Getting excessively drunk is a pretty 'western' thing to do, and that and other behaviour that exemplifies the stereotype is basically attracts their attention.
I'm a Tourist! Rob Me!
If you were to go around yelling that, you'd probably be okay - nobody would come near you, except possibly the police. Joking aside, that's what your body language may well be yelling if you're not conscious of your surroundings and the potential dangers. Blending in is not as much about your clothes, your complexion or any other physical attribute as about body language. Strut around like you live there and half the battle is won.
Aside from pretending to be insane, here are some other tricks every person should know before travelling alone:
Use travellers' cheques or a prepaid foreign currency ATM card (see our Exchanging Currency article) rather than carrying large amounts of cash.
Only carry the cash that you think you'll need and one card - if you do get robbed it's best to cut your losses to a minimum. Always have the number that you need to report your card stolen to easy to hand so you can have it cancelled within minutes.
A money belt (which also fits a passport) that goes under your jeans or trousers is a very sound investment - it's easily concealed and virtually impossible to rob without you knowing about it. You should be discreet when delving into it, however.
Always stick to streets where you can see other people, even if it means taking a longer route.
Always carry a mobile phone in case of emergencies but also as a deterrent - if you think somebody is following you either use the phone or pretend to use it.
Backpacks or rucksacks are easy to steal from when they're on your back. If you must carry one, don't keep your valuables in it and hold it in your hands or put it on the ground between your feet whenever you're stationary.
The old duplicate wallet trick - it may seem a bit far-fetched but it works. If you have pocket space, carry an old wallet with a little cash and some old receipts. If someone demands your wallet at knifepoint you give them this one!
Travelling alone can make you a target for those who would try to rob you by force, but if you're alert and attentive and at least give the impression that you're a seasoned traveller, then this shows when muggers size you up. Be sensible, be aware and take care of yourself - because arguably the worst part about being robbed is the humility of knowing that you could have done more to prevent it.
You might also like...