Tips and Ideas for Solo Travel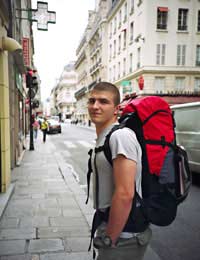 When you travel solo you are in charge of making all the decisions and plans regarding your destination, and of organising every single detail. This includes travel arrangements and how you will fill your time when you get there. What to pack, how to relax and how to feel comfortable on your own are also considerations. Using tips and ideas can therefore be a useful way to help you plan the ultimate solo experience.
Tips
Although the usual standard of hygiene and cleanliness is expected wherever you go, you will undoubtedly encounter situations where this leaves a lot to be desired. Get into the habit of carrying anti-bacterial gel or wipes. Keeping your hands clean is a health maintainer, so ensure you stay germ-free.
Stay hydrated but ensure you drink bottled water, whenever possible. Also wash any fruit and vegetables before consuming.
Take photos of friends and family with you, so that you have familiar faces to look at if you feel a little isolated.
Start a travel journal by keeping notes of the places you visit and details of the things that grab your attention. Not only will this keep you occupied but it will refresh your memory when sharing your experience with others.
Find accommodation that is located close to shopping and leisure facilities, if that is what you are mostly interested in. This will be especially convenient for you at night. If you are staying somewhere more rural make sure you familiarise yourself with local places, as soon as possible, so that you get your bearings.
Ideas
Find somewhere friendly locally, where you can enjoy a coffee or lunch every day. Having a sense of familiarity, whilst away, will enable you to feel more relaxed in your setting. You will also find that the staff may recognise you, which will encourage you to practice your language skills, if you are abroad, or to ask for activity suggestions.
A good way of interacting with other people is to offer to take photographs of them, if they are busy taking shots of the scenery. Doing a good deed will present you with a nice moment and may open up conversation naturally.
Another good way of starting a conversation is to ask a question or to pay a compliment. Most people will feel as apprehensive as you, about starting a conversation with a stranger, so take the initiative.
When eating out alone wear your sunglasses. Not only does this maintain a cool image, but it also allows you to look at other people without them realising that is what you are doing. Checking people out in this way is acceptable, and will give you the opportunity of seeing if there are other people who are also at ease with themselves who you could easily interact with.
Dare yourself. Whilst having a morning coffee check out the person sitting at the next table to you. If they look friendly, give them a broad smile and say hello. The worst that could happen is that they simply ignore you. However, you may find you have someone to share a beverage and a laugh with.
You might also like...
The comment below is irresponsible:"Also wash any fruit and vegetables before consuming." On most societies in the world water is contaminated and washing your fruit will cause you to be ill. The advice that should be given is that you should eat fruit that you can peel, eg. Bananas,oranges and mango. Anyway these fruit generally are less tampered with and taste the best.
paddy
- 5-Jun-11 @ 11:14 AM