Business Trips Alone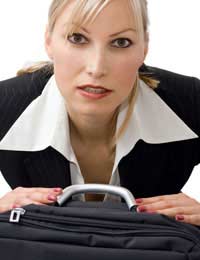 When you're travelling for business rather than pleasure, you really can't afford for things to go wrong - it reflects badly upon you personally and your company, particularly around new clients. On most business trips, time really is money. In addition to your accommodation, living and travelling expenses, there's the sheer cost of your labour.
If it's your own company then you may not count that as a great expense, but you'll be looking to absolutely minimise all other costs anyway. If it's not your own company, then your trip can be quite costly to your employers, however, rest assured that you wouldn't have been sent if it didn't spell profit for them in the long term. As long as it doesn't turn into a disaster that is...
How Not to Allow a Business Trip to Turn into a Disaster
On any kind of trip there are all sorts of unforeseen problems, otherwise known as unforeseen costs. But since time is money, you'll be on a tight itinerary, which means one problem can quickly snowball into several problems. Your top priority is damage limitation. As soon as you know your itinerary, go through it with a fine tooth comb and ask questions.
Communication - The single most important tool in the business world. Get the names, addresses, emails and phone numbers of everybody and everything that remotely features in your plans. This includes customer service numbers of every company you're travelling with, every person you're going to meet while on your trip and of course, anybody back at the office that you might need to contact. Keep them all on a sheet of paper on your person in case you lose your phone or run out of battery.
Travel - Check and recheck times, distances and logistics. Ideally give yourself twice as much time as you need, though on a tight schedule this may not be possible. If you're the one planning the itinerary it's better to be safe than sorry, so give yourself as much leeway as you can feasibly get away with.
Checklist - Laptop, fully charged phone and their respective chargers, petty cash and cards, business cards, plenty of spare clothes, all documentation and necessary literature and personal toiletries. But that's just the beginning. Then go back through your itinerary and do a checklist for every stage of your trip. Think you've got everything? What about the piece of paper with all your contacts' details on it?
People under you - If you're coordinating with other people, they may be your greatest liability. Make sure instructions are crystal clear and that everybody is as well informed as possible.
Do or Do Not - There is no Try
The immortal words of Yoda are often the despair of the business traveller. Even if there was nothing you could have possibly done to prevent the problems from occurring, there's always an aura of suspicion that, somehow, it's your fault. This is because when things go wrong most people, especially bosses, are keen to lay responsibility at someone else's door.
For this reason, make sure all your exits are clear - think of everything, keep a record of everything to support your defence later on, and if it does all go pear shaped, well, follow the example of others and lay the blame somewhere else! Here's a small catalogue of reliable excuses to begin your collection:
It was the client's fault - A good excuse for running late that will never be followed up by your office for fear of making a bad impression. You can't let a client hold you up too long though!
Altercation with a taxi driver - How many of us have been ripped off by taxi drivers in strange cities? It's plausible and commands admiration that you got waylaid by arguing the point with a would-be con artist.
Security - use the troubles of our times to your advantage, there are countless places where you may be slowed down by people doing their brave and heroic jobs in the name of security.
Making a Good Impression
Dealing with all of your problems in a respectable, efficient and practical way is great for your professional reputation and makes a good impression on both your clients and your employers. Always communicate as much as possible as this shows a high level of professionalism. Great customer service skills are paramount, as is a friendly attitude and constant positivity - never admit, not even to yourself, that you're having a bad day!
You might also like...