Planning the Holiday of a Lifetime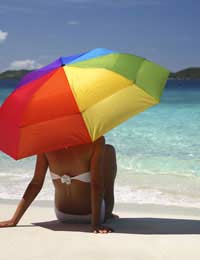 Travelling solo means you are able to please yourself. Whether you have a desire to cruise around the world or climb the highest peaks, planning the holiday of a lifetime will be limited only by your imagination, budget, preparation skills and realistic expectations.
Holiday Checklist
It is a good idea to plan your trip with as much attention to detail as possible. As a solo traveller you are responsible for making all the necessary preparations, including travel, budget, insurance coverage, research and itinerary. Whether it is your dream to spend time enjoying relaxing exotic beaches or exploring cultural sights once you have identified the source of your inspiration you will be able to plan your holiday of a lifetime with care.
Begin by creating a checklist as this will help you focus effectively. Produce a draft itinerary, budget list and task list, and include a contingency fund if possible. Researching travel agencies may also help you organise and plan specific travel arrangements.
Personal Checklist
You are about to embark on your dream holiday so checking your personal wellbeing and fitness makes sense. A holiday of a lifetime is unfortunately not the kind of vacation most people are able to afford regularly, so in order to appreciate this travel experience giving yourself a personal MOT before departure is recommended.
If you are planning to trek rough terrain as you explore exotic rural locations, you will want to be able to do so with a comfortable level of fitness. Making a few lifestyle changes, if required, before your planned vacation will ensure you enjoy your travel experiences to the full.
Research Checklist
If you have cherished a dream of travelling to a particular destination you may have researched the country, customs and language. Buying a guidebook and researching the history, culture, attractions and cuisine will add a further dimension of interest to your planned holiday or travel experience. The better informed you are the more you will be able to enjoy and explore, and your holiday will create more positive memories of your travel experiences.
Packing Checklist
Whether you are planning a lengthy stay, or an intensive whirlwind break, a solo traveller will benefit from packing the correct type of clothing and equipment required to enjoy the holiday of a lifetime. Travelling light means you pack the essentials and avoid carrying heavy luggage that is full of unnecessary items. Choosing light, comfortable and versatile clothes allows the solo traveller to save luggage space for souvenirs of the perfect holiday.
Set Realistic Expectations
A solo traveller may dream of exploring local culture, customs, sights and attractions. Setting a realistic list of potentially achievable expectations means that you are able to enjoy your travel plans without the feeling that you have to cram everything into your itinerary. Adopting a flexible approach reduces stress and also enables the solo traveller to be open to spontaneous arrangements and plans along the way, that often add to the enjoyable experiences of foreign travel.
You might also like...