Spiritual Retreats to Meet Like Minded People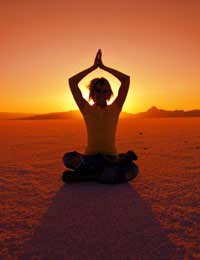 Retreats offer individuals more than just the opportunity to unwind in a tranquil setting. For those who are already openly spiritually minded a Retreat can provide valuable space and time to find a deeper understanding of their beliefs and personal growth.
Individuals who are interested in exploring their spirituality, are also welcome, and are encouraged to use the retreat experience as an opportunity to escape from the pressures of everyday life whenever they may feel the need.
What is a Spiritual Retreat?
The word 'retreat' means 'a period of seclusion', which in the spiritual sense also allows for reflection or the exploration of religious contemplation. A spiritual retreat however, can be many things. It can provide the individual with the chance to remove daily pressures by giving them the place and space to enjoy inner and outer silence, through daily meditation or a connection with a Higher Being. Or it can offer the ideal environment to rest the mind, body and spirit and to re-energise and provide more self-awareness.
Where can you Find a Retreat?
The type of retreat you are interested in visiting may determine its location. A retreat, which provides the opportunity for solitude is more than likely to be found in a tranquil, picturesque setting that offers not only a peaceful spot for reflection but also an attractive view for inspiration. This type of spiritual retreat can be located in the rolling Austrian hills or the beautiful English countryside, and there are many other equally breath-taking places where spiritually-minded individuals can explore their personal awareness.
If you have an interest in following the teachings of J.Krishnamurti, Buddhist practices or other religious disciplines, there are also many established specialist retreats that offer supportive practice and communication with like-minded individuals.
What do you do on Retreat?
The focus on what you do is almost secondary to the way that you will be feeling. A retreat allows you to remove the pressures of everyday life, whilst listening to what your mind, body and spirit needs to grow and re-energise. Some individuals may choose to visit a Retreat because they are healing a relationship or want a better understanding of problems and issues. Other people may visit because they just need to experience inner peace. Whatever the reason is, having an intention – or purpose of visit – will enable you to direct your thoughts to the questions you seek answers for.
You will also be around other like-minded people who share an interest in personal growth and self-awareness, so you will also be able to share experiences with individuals who may become supportive friends.
Other Types of Retreats
Besides spiritual retreats there are a number of retreats that offer an opportunity to explore personal development in a tranquil setting. This includes yoga and meditation retreats, as well as bodywork – massage – retreats that aim to align body and spirit. Person-centred retreats also provide a supportive practice and can allow the individual the opportunity to explore tools that can be used to improve the quality of balance in their life.
You might also like...