City Breaks Alone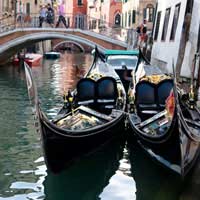 One of the most exciting and fulfilling types of trip is the 'City Break'. It's a break without a particular theme like skiing or sunbathing or rolling hills - the theme is the city itself and its unique personality. All cities have a personality, and like people, there are some that are dull, pitiful and just plain unattractive, while others are charismatic, fascinating and stunningly beautiful! In a big city there are multitudes of things to do and see and usually a melting pot of human traffic to observe and immerse yourself in - all in all making it an ideal stage for the lone traveller!
Costs and Dangers
It's a shame to start off with the downers but unfortunately, in every big city there are dangers to be avoided both to your person and to your wallet. You may not be as wise as you think to the tricks that await you - the bigger the city the smarter the petty criminals and the more abundant the tourist traps. Even then, there's a fine line between what you would regard as a dishonest rip-off and what is just a very expensive norm.
Cities that are popular with tourists tend to be unrealistically expensive, indifferent to the performance of the country's economy, and there are few ways to avoid paying through the nose for everything from your accommodation to a simple cup of coffee. Straying away from the beaten track - to the streets where the locals eat and drink - invariably results in finding better quality and lower prices. Then again, if you have your heart set on gazing at the Eiffel Tower or the Colosseum while sipping an aperitif then you're doomed to get the worst value for money. On Piazza Navona for example, in the capital of Italy, tourists are served microwave frozen pizza while they take in the stunning fountains and architecture around them.
But aside from plain expensive, a still gloomier prospect awaits travellers to the most vibrant and beautiful cities of the world - unscrupulous folk who are out to exploit tourists even more than the market forces already have. Taxi drivers, bar owners, hoteliers, street hustlers - they come in many forms and prey on people who don't know any better, more often than not using the communication barrier to their advantage along with tactics of intimidation or just outright deception.
The law offers varying levels of protection depending on where you are but the surest way to avoid donating your hard-earned funds to such parasites is to be wary and cautious of anyone with an interest in your custom. When discussing prices leave no stone unturned or clause unclarified. Words like 'each' and 'both' can be frequently 'misunderstood', as can numbers and the inability of certain people to answer a 'yes or no' question.
Bright Lights and City Squares
In spite of the obvious dangers, big cities generally offer the most exciting and culturally enthralling type of break. They are the melting pots of society - where the action is. They are the best places to meet interesting people, see the most famous buildings and monuments in the world and experience a different kind of life. There's usually an international community that fringes the indigenous one and you can choose which to focus your attention on. There's the convenient side of the tourist industry - people who look to provide the services that you're looking for: 24 hour internet cafés and
phone centres
, international restaurants; invariably you'll find Irish pubs to give you a taste of home and in the hotels, shops and restaurants who want your trade you'll find that most delightful of British/American exports, customer service.
If you need a week of relaxation to relieve you from a life of stress then a beach holiday may be your thing, but a beach is a beach in most cases - cities have personality. If you're looking for the kind of break that leaves you needing another holiday to recover from it then try one of these exciting, up and coming destinations:
Bilbao Spain - This splendid Basque city is a blend of style, modernity, culture, great cuisine and some of the finest cider you're ever likely to find.
Catania Italy - Sicily's second city is a small but buzzing town with scenery that encapsulates and some of the finest nightlife in Italy. Sicilian hospitality is unrivalled and Mount Etna looms overhead too for those with the adventure trail bug.
Krakow Poland - With Poland now an EU member, this inspirational city is the new Prague - beautiful, welcoming, heartrending… and cheap!
Santiago Chile - A little further afield, but the capital of this former military dictatorship has now opened its arms and is sharing its many treasures.
You might also like...