Singles Holidays: 18 - 30s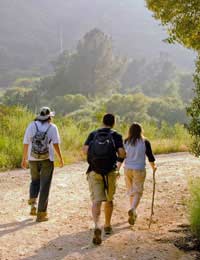 Forget the traditional 18-30s boozy, sun-laden sessions in the Mediterranean. There is now plenty of scope for adventure seeking singles to mingle with like-minded people whilst enjoying the freedom to explore vast landscapes and dramatic scenery. Travelling solo has never been easier or more exciting, and each destination promises the opportunity to widen your personal horizons.
Adventure Seekers This Way
Whether it is an activity-packed excursion or a more challenging overland trek, holidaying packages for singles have become a far more attractive travel option. Remote destinations now provide small groups of like-minded travellers the opportunity to create the sort of vacation that encourages personal growth and development.
Travel companies have finally realised that singles have more of an opportunity to book the kind of trip that stretches the imagination, than their coupled-up/family loving counterpart. Whilst family holidays predominately provide accommodation in popular locations, breaks for singles can offer a wider option with less restrictions, and without being penalised with a single supplement.
Friendship Breaks
Travelling alone may seem like a daunting experience for many individuals. Whilst having the space to do as you wish may be every traveller's dream, doing everyday things like eating alone aren't quite so pleasant. Being able to take time off work at the same time as your friends and family members may not be an option however, so getting away may become an annual challenge that most singles would rather not have to think about.
Knowing that you will encounter like-minded people on your chosen friendship trip or excursion may provide reassurance and peace of mind though, and making new friends in a relaxed and unstructured setting also means that you don't feel pressured to be part of a group or gang.
Friendship breaks also allow singles the opportunity to explore a destination that may have previously appeared too challenging in some way. Sharing the experience with strangers who all face the same issues undoubtedly helps individuals build a camaraderie bond.
Finding a Holiday Partner
Whilst the biggest drawback to booking an organised singles break is not knowing what sort of people you will be sharing your travel experience with, being part of an unstructured group does provide the choice of joining in or doing your own thing. However, singles can also search for like-minded travel partners who they can get to know before booking up to see the sights.
As with online dating, finding a holiday partner requires registering your personal details and requirements with a reputable singles organisation, who will share your information with individuals looking for the perfect travelling companion. Using this type of service ensures that you get to know the person/persons, you will be holidaying with, on a more personal level, and enables you to decide exactly who you want to spend time with.
Choosing to go on vacation with a holiday partner allows single men and women the opportunity to widen their holiday options, and encourages them to make good use of their time off work, instead of staying at home with nothing much to do.
You might also like...
Danny- Your Question:
21 looking to go on singles holiday where can I actually find one or where do I look
---
Our Response:
The Internet will provide some results, but a good travel agent or travel consultant will certainly be able to help.
TravellingAlone
- 4-Aug-17 @ 2:33 PM
21 looking to go on singles holiday where can I actually find one or where do I look
Danny
- 2-Aug-17 @ 6:23 PM