Accommodation Choices for Single Travellers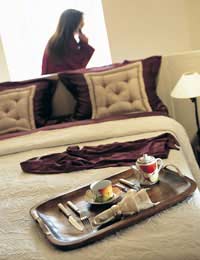 One of the most crippling costs when travelling for any reason is that of accommodation. It's usually the single most expensive aspect of your trip and lone travellers are often in for a particularly raw deal. The solo traveller is not the kind of client that has hoteliers rubbing their hands together. The larger the group the more money there is to be made, not just through the basic cost of accommodation but also because people, whether on holiday or not, tend to spend more per head when in a group than alone. Pairs and groups consume food and drink more from the offset - they tend push the boat out more, not least because they make a saving when they split the cost of accommodation.
Single Supplements
The price of hotel accommodation is based on the service provided - principally, the labour costs of the personnel employed to make you comfortable, the initial outlay for the fixtures and fittings, and the cost of consumables - linens, food and drink, toiletries etc. So understandably, the cost of accommodating a group of two or three is not much higher than the cost of accommodating just one solo traveller, and for than reason, pairs or groups pay a lot less per head than singles.
On the bright side however, travelling alone is an area of the market that is expanding at a phenomenal rate, and certain pockets of the industry are beginning to respond - specialist travel agents have been the first to catch on, offering a whole range of packages designed to tempt the lone traveller - who accounts for about 10% of the market now. Certain hotels too, particularly those geared for business clients, are beginning to make special concessions for travellers who are frustrated with the single supplement culture.
Budget to Mid Range Accommodation
Most travellers are on a budget and therefore look to spend as little as possible. Some people would be on a mid-range budget if they were with friends or family but opt to downgrade to avoid being penalised for travelling alone - either through necessity or sheer stubbornness - to types of accommodation that offer a fairer deal.
Campsites and hostels tend to be the bargain basement accommodation options and, refreshingly, they usually charge per person rather than per space. The obvious disadvantage is that this is the bottom end of the market - comfort, services, facilities and security are at a minimum. Having said that, campsites and hostels are the lone traveller's bread and butter - where you are guaranteed to meet people of like mind and make friends.
B&Bs, Guest Houses and 1-3 Star Hotels are the next rung of the ladder and unfortunately it's here where we approach that middle ground of the market, where single supplements exist and lone travellers get the short straw.
Luxury
If you're in the luxury accommodation bracket then the cost of your accommodation probably isn't too much of an issue to you - and neither is the single supplement. However, you'll be pleased to know that it's in this area of the market that the industry is responding most to the growing demand from solo travellers for a fair deal. More and more 4 and 5 Star hotels are offering competitive deals for singles, and not just for business clients.
Such deals would typically consist of lower-cost perks particularly attractive to single travellers, such as the use of the health spa, Turkish baths and wellbeing facilities. As discussed above, the cost of accommodating a single traveller is not much less than that of accommodating a couple, so to make up the difference they'll throw in these extras.
Travelling alone offers many tempting delights but the advantage of sharing costs is not one of them unless you're prepared to rough it a little now and then. If you're looking for something special and you have a reasonable amount of money to spend it's worth weighing up your options with various travel agents and formulating an idea of what you're hoping to get out of your trip. If your budget is "Spend as little as possible", you can avoid the traps by utilising the Internet's countless travel sites and scouring the online forums for other single travellers with whom you could share costs.
You might also like...