Budgeting When Travelling Alone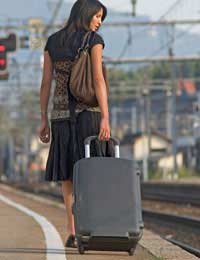 So you want to plan the trip of a lifetime. You know where you want to go, there's nothing to hold you back, and you have unlimited time and money to spend. Well good for you - you don't need to read any further. If, however, like most people, you are limited by time and money, then read on.
Time is Money
Funds can be stretched, but the only way to stretch out the time you have is to travel east. However, given that you'll only make up one day for every time you circumnavigate the globe, this isn't really the most cost-effective option! There are ways not to waste time though and the secret to this is in how productively you use that which you have before you set off. Good planning before your trip is without a doubt the best thing you can do to save both time and money later on.
You can begin in one of two ways: Planning your trip within your budget, or planning your trip first then saving enough money to do it. In any case, the generally accepted rule of thumb is that you'll need about one and a half times what you plan to spend. Your costs come down to three main categories: Transport, Accommodation and Living.
Getting Around - The actual travelling part of travelling is, for many people, the worst part - spending endless hours waiting in departure lounges or freezing train stations only to spend more endless hours cramped and uncomfortable with no possibility of escape. A great way to save money is to do all of your long journeys by night, thereby not wasting days and saving on accommodation at the same time. Booking non-refundable, non-changeable travel tickets well in advance saves a lot of money but carries obvious disadvantages.
Places to Stay - The largest single expense for any traveller is the crippling cost of accommodation. The more you're prepared to rough it, the more money you'll save. Single supplements are the lone traveller's worst enemy - the policy of so many accommodations of charging solo travellers for the room rather than per person. Again, if you search in advance you'll have the time and space to find accommodations that are single traveller friendly. If backpacking, try checking online forums for other like-minded travellers that you could share accommodation with.
That's Living Alright - This is the hardest aspect of your trip to plan, but again you can help yourself by finding out about your destination(s). After you feed yourself, the rest can be split up into daily amounts or budgets per place. Every moment of your trip is precious so don't waste money on items you can buy later, at home or via the internet. Do however, enjoy yourself!
Strategic Spending
Changing money before you leave brings back the best exchange rate (at the post office or your own bank - not a travel agent), but it's never a good idea to carry around large amounts of cash - for safety as well as temptation - and the convenience of an ATM card and a credit card counts for a lot. Use your bank card to draw cash from local banks taking the daily limit each time so as to save on fees, and use the credit card to pay for travel and accommodation whenever possible. Set up a direct debit to pay off the minimum payments on your credit card before you leave.
Budgeting's largely about a mixture of self discipline and wise spending. You know how much you have and what'll happen if you exceed it, but at the same time there are always unexpected costs and you should allow yourself to push the boat out for special experiences.
You might also like...