Travelling Alone in Australia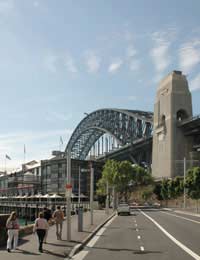 First claimed as a British territory in 1770 and utilised as a penal colony until 1848, the vast land mass known today as Australia is one of the most geologically distinct on the planet. It's also about as far away as you can possibly get without a space shuttle. Often dismissed by many as simply 'Britain in the sun', this relatively young country has actually been inhabited for nearly five millennia. But without any real historical contribution, and a culture largely spawned by our own, what does the country that gave us Kylie, Dame Edna and Yahoo Serious; the didgeridoo and Waltzing Matilda; have to offer that justifies the airfare?
Why?
Australia's greatest treasure is its awesome and immense natural beauty. From its stunning white beaches and the Great Barrier Reef to the famous Outback and Great Sandy Desert, this vast continent offers opportunities like no other place on Earth to become immersed in nature and the elements, not to mention weird and wonderful wildlife not found in any other part of the world. The possibilities are endless for outdoor pursuits such as camping, surfing, scuba-diving and extreme adventures. Added to a national love of the outdoors and a naturally hospitable and easy going culture, Australia is an increasingly popular travel destination with young people today.
Visas, Documentation & Healthcare
British citizens may apply online or via travel agents for holiday visas of up to 90 days (ETA Visa), three to twelve months (Visitor Visa), working-holiday visas and student visas. Applications must be made in advance.
As far as medical care is concerned, Britain and Australia operate a reciprocal system whereby UK citizens are entitled to free emergency medical care in Australia for unforeseen illness or injury. Treatment for existing medical conditions can be costly, however.
The risk of contracting a life-threatening disease in Australia is fairly low but certification of vaccination will be necessary if you come via places where there is a risk, like Singapore. The standard group of vaccinations includes Yellow Fever, Hepatitis A and B, Tetanus and Japanese Encephalitis. Visitors should also take precautions against mosquito bites, particularly if travelling in the north or north west. For comprehensive details visit the National Travel Health Network and Centre website (www.nathnac.org).
Cultural Differences
Most Australians are descendants of British working class people and as such present hardly any glaring differences in culture. A competitive bunch, who love nothing more than to outshine their old forefathers in sport, Australians are generally relaxed and fun-loving people with a much-diminished concept of class barriers. Institutional racism is an unfortunate issue, particularly toward Aborigines.
Suggested Destinations/Itineraries
To see the best of Australia you need a decent amount of time - at least a month. This country is huge and, coming from a country the size of a postage stamp, we Brits often have an unrealistic impression of its sheer vastness. Most people either start in Cairns and work their way down the coast, or start in Melbourne and work their way up.
Melbourne is described as a classy city, as old as it gets in Australia, with art and architecture that complements a relaxed yet modern atmosphere. Sydney is more cosmopolitan - a bit more hurried, but a good party town and the best place around to see a show on a budget or an opera in the famous Opera House if you have money to spend. The famous Bondi beach is also nearby, creating the perfect combination of sun, sea and city.
You might also like...