Travelling Alone in South & Central America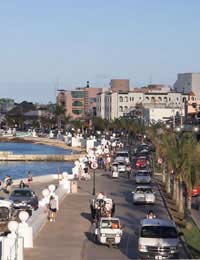 From the Galapagos Islands to the Falklands, the beautiful continent of South America encompasses a little of everything for everybody. Geologically it almost certainly once formed part of Africa and from the Amazon to the Andes it certainly offers at least as much adventure and outdoor extremism.
With a fascinating indigenous history that turned a catastrophic corner when the Santa Maria rolled up off the coast in 1492, the countries of South and Central America were predominantly colonised by the Spanish and Portuguese and have given the world such historical icons as Evita Perón, Che Guevara and Pelé.
Why?
As if all the above weren't enough, South and Central America offer a tantalising taste of the exotic, yet the tolerant nature and not-too-unfamiliar language of these cultures put it within reasonably easy reach. The intoxicating allure of the Latinos never fails to invigorate the imagination. The birthplace of surely the most intense and passionate dance-styles in the world and music to accompany - the almost inevitable fusion of Spanish, African and native influences - is a spicy melting pot of fun, fascination, and fantasies come true.
Visas, Documentation and Healthcare
You should always check the Foreign and Commonwealth Office Travel Advice section for the latest updates on dangers of terrorism and kidnap in certain areas. Other than that, the greatest danger to tourists is of muggings and theft.
In almost all of South and Central America, British citizens are permitted to enter and stay for 90 days as a tourist without a visa. To enter Mexico an FMT card must be obtained but this can be done as you enter. If entering Venezuela by land or sea a visa must be obtained in advance from a Venezuelan Consulate.
You must have at least six months remaining on your passport and be aware that overstaying your 90 days can carry financial penalties and in extreme cases, deportation. Most countries reserve the right to reduce your 90 day limit. Most recently, Brazilian officials are known to be reducing the stays of single male travellers in an effort to stem the rise in sex tourism.
It's strongly recommended you get all your vaccinations, particularly Yellow Fever and Hepatitis A and B, two months before you go and take out full comprehensive medical insurance. Healthcare is very hit and miss in this part of the world and nasty diseases are plentiful. Always drink bottled water (and beer) rather than tap and remember that ice is usually made from tap water.
Cultural Differences
Most of South and Central America was colonised by Europeans, mainly the Spanish, and their slaves. For this reason, the cultural divide is not as vast as one might think. People expect respect, and common sense dictates what will and what won't offend. Generally speaking, people in this region of the world are not overly aggressive and are magnanimously tolerant of excitable tourists and their tomfoolery.
Do accept hospitality, food and gifts, or decline with grace and a very good excuse.
Don't take photos of examples of poverty, especially without asking permission.
Do get used to being stared at, and a completely different concept of personal space - i.e. none at all.
Don't forget your CAMs and PIPs: Cortez-Aztecs-Mexico; Pizarro-Incas-Peru!
Recommended Destinations
Machu Picchu, Peru - One of the new seven wonders of the world, the Lost City of the Incas, perched on a ridge 2430 metres above sea level, is commonly recognised as one of the most stunning sights this world offers to behold, and as such is an essential item on the itinerary of anyone travelling within a thousand miles.
Galapagos Islands, Ecuador - This small group of volcanic islands off the coast of Ecuador is one of the most unique and beautiful places in the world. Home to countless species' not found anywhere else on earth, the place where the penny dropped for Charles Darwin truly is like no other.
Amazonia, Several Countries - The rainforest that drains into the world's biggest river offers the opportunity for the extreme trip of a lifetime, from ornithology to Indiana Jones style expeditions.
Buenos Aires, Argentina - For those looking for something a tad easier on the legs and the taste buds, the Paris of South America offers the complete city break.
You might also like...