Travelling Alone in Africa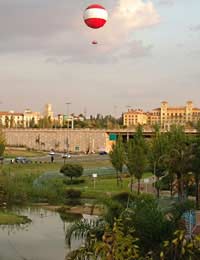 Wild, dangerous, exotic and absolutely unrivalled in awe-inspiring natural beauty, the plains, deserts, jungles and mountains of Africa represent the only truly undiscovered place on earth for the recreational traveller.
This amazing and utterly unique continent offers a guaranteed culture shock, and promises that you will learn more from a trip to this magnificent place than you will from anywhere else in the world.
Why?
This stunningly beautiful and thoroughly intoxicating continent leaves visitors forever changed. They say Africa gets in your heart and in your blood, so be prepared for this unusual, raucous and often savage part of the world to blow your mind.
From the Arab countries in the desert plains of the north and the dangerous and war-torn former French West Africa, to the stunning and vast safari lands of the south and east and the soon to be World Cup hosts, South Africa, the continent of Africa truly is the garden of the world.
Visas, Documentation & Healthcare
Visa regulations for African countries vary so much that they cannot be easily summarised here, only to say that requirements range from no visa at all for British citizens to visas being obtainable only in advance from the relevant country's representation in the UK. For a list of such offices, visit the Foreign & Commonwealth Office (FCO) website.
The FCO site should also be monitored closely for updates on politically volatile areas and the dangers associated with each country in Africa.
It goes without saying that full vaccinations are in order as is full medical insurance that covers the possible eventuality of an airlift to the UK or South Africa. Consult your GP at least eight weeks prior to your trip to find out what jabs you need. They'll almost surely include Hepatitis A and B and Yellow Fever. Certification of having had these jabs will serve you well too.
Hints & Advice
What to pack: Rule number one is pack light - it's hot, in case you didn't know - but added to that it's badly organised and awkward to get around. You'll soon discover that the only way to do anything in Africa is by taking your time and not making life difficult for yourself. Buy clothes and any other cheap, replaceable items along the way. A large, up-to date, detailed road map is a worthwhile investment as it will show a better ways to get to remote places; binoculars, walking shoes and sandals, a lighter, a pocket knife, a mosquito net, malaria tablets, insect repellent, strong painkillers and a nylon chord for drying clothes are all useful too
Take it easy: As touched on above, you'll soon realise nothing happens too quickly. The sooner you get used to it the better. A day's journey may take three days sometimes, that's just the way it is.
Read African novels: A good way to familiarise yourself with this wholly unique place and its idiosyncrasies is to read some of the wealth of literature out there by African writers.
Money: You'll need a plentiful supply of cash as ATM machines aren't really common - US Dollars or Euros tend to be accepted in most places. Take Traveller's Cheques too, so that you can replenish cash supplies when you are in big cities.
Wear sunscreen
Suggested Destinations
Trekking Kilimanjaro, Tanzania: The world's biggest 'walkable' mountain and the highest peak on the African continent, the astounding sight of this famous snow-covered dormant volcano inspired Ernest Hemingway and is an absolute must for anyone who is fit enough for the challenge.
Victoria Falls: On the border of Zambia and Zimbabwe, the world's largest waterfall has long been one of Africa's biggest tourist attractions, though recent unrest in the latter country has stemmed tourism in recent years.
North Africa: ASTVS Association organises voluntary work in Morocco, with opportunities to go on excursions in the Atlas mountains and take lessons in Arabic.
Lake of Stars Festival, Malawi: Annual live music festival on the beautiful shores of Lake Malawi, featuring an ensemble of Africa's top artists as well as international stars. This beautiful country also offers a wealth of safari opportunities as well as beautiful landscape and other outdoor pursuits.
Safari treks in Southern and East Africa At the time of writing Kenya is going through a period of violent unrest because of disputed presidential elections, but generally speaking this country has a massive tourism sector. Other top destinations include Botswana, Namibia and Tanzania.
You might also like...
In January 2016 we are organising a Overland truck trip, driving from Reykjavik Iceland to Cape-town South Africa, we will be taking 6 months and driving via Europe, west and central Africa, There will be 14 passengers...anyone want to join...then just google Vikings Across Africa
vikings across afric
- 6-Apr-15 @ 9:56 PM