Travelling Alone in North America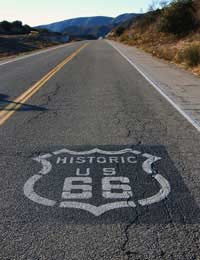 North America is not one of the most popular travel destinations for Brits, there are so many places we choose to visit before there. Culturally, the USA and Canada are about as close to us as anywhere - probably more so than our European neighbours; while geographically, they're about as far away as anywhere. These two things combined mean that we rarely think of trying the place out for a short break as we might for say, the Czech Republic or the Costa Brava.
America's all time low in international popularity added to the fact that many of us feel we've already seen the best of it on the silver screen means that as a tourist destination it really underperforms. Canada simply doesn't offer enough to tempt many people across the ocean, Mexico likewise. In truth, it's such a large continent and it costs so much to get there that you have spend serious time there to justify the airfare - which means you really have to want to go.
Why?
Why do the vast majority of Americans never leave home soil? There must be something about the place right? Well, North America offers just about everything you could hope for in terms of natural beauty - mountains, deserts, oceans, giant rivers, you name it. From the Grand Canyon to the Rocky Mountains, from the Great Lakes to the beaches of Florida, the scenery is truly unparalleled.
The other great thing about North America is the culture. That's right, the culture. We rarely give them credit for it, but this teenage civilisation set its stall out from the beginning to build their own world and that they did - and you can see it and hear it throughout the media. Ok, a lot of America and Canada could be justifiably branded provincial, but there are certain places that offer inspiration and wonder the likes of which we simply don't have in Europe. New York - the undisputed capital of the world; California - the home of Hollywood, hippies and sugar-free air; the deep south - the bedrock of modern music.
Visas, Documentation and Healthcare
British citizens may visit the USA for up to 90 days under the Visa Waiver Program but you must have a machine-readable passport and have your return ticket booked before you go. US immigration control is notoriously unfriendly, even to us Brits, so be prepared. For longer stays or for work or study, a visa must be applied for from the US embassy in London by appointment only. It's a good idea to begin the process as early as possible.
Full medical insurance that covers the US specifically is absolutely necessary. The Hippocratic oath dictates that you must be treated if your life is in danger, but if you don't have insurance you'll face a potentially devastating medical bill afterwards.
British citizens may visit Canada for short periods without a visa but travel insurance is still necessary. To visit Mexico, British citizens require an FMT - a short term tourist visa that can be obtained from a Mexican consulate or as you enter the country.
Cultural Differences
The cultural differences between the UK and North America can be fairly described as minimal. Violent crime is more common in the USA, particularly gun crime, and for that reason security personnel are also more draconian. Penalties for drug related crime are generally more severe.
Mexico is a traditional catholic country where the greatest danger to tourists is that of muggings and theft. Homosexuality is said to be frowned upon, so open displays of affection are not a great idea.
Recommended Destinations and Itineraries
The USA offers one of the most classically romantic trips in modern history - a drive coast to coast. It's the life ambition of many people to do such a trip - route 66 et al - and if you have the time and the money it'll probably be one of the finest experiences in your life. Nowadays it's possible to deliver cars - you pick it up in one place and agree to deliver it in another place by a certain date and it's yours, you even get a fuel allowance! How about that for forward thinking?
You might also like...