What are the Qualities of the Lone Traveller?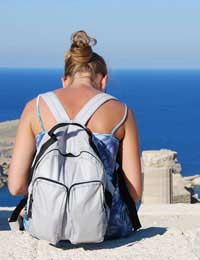 Travelling alone is a growing phenomenon, there's no doubt about it - hence the creation of this website! In today's busy world, more and more people are opting to go it alone instead of waiting and compromising for friends and family, but it can still be a daunting prospect for many of us. We'd like to do it, but we're not quite sure if we have it in us. So what are the qualities of the ideal lone traveller?
Independence
Naturally, to embark on an adventure alone requires a strong element of independence, in fact, this is probably the single most important quality of the lone traveller. Do you feel you could get along without your nearest and dearest to help you out? Are you financially secure? Are you 'fit and able'? Do you enjoy your own company? Travelling alone is probably one of the finest statements of independence a person can make.
Confidence
Your self belief is everything if you really want to challenge yourself - those who lack it unfortunately end up heading home at the first sign of difficulty. To know your abilities - and your limits - is an invaluable quality to have when making decisions. Good self confidence also helps you win friends and influence people.
Resourcefulness
From laterally thinking your way around tricky situations to having the skill to fix a practical problem - are you the sort of person who needs an electrician to change a light bulb? If so, better start looking for travelling companions! How would you go about finding a place to sleep when you miss that last train? What would you do if all your money, documents and cards were robbed?
Rationality
Your ability to calmly assess your options, sometimes under pressure, may be vital in saving time and money, keeping yourself safe and making the most out of your trip. On the flipside, there are those who would have you believe that travelling alone is in itself irrational, but if you believed that you wouldn't set off at all. That zany and spontaneous, instinctive spirit of adventure is essential, yet you need to be calculated at the same time and plan ahead in the short term.
Perseverance
It's not going to be one long picnic, there will be hard and lonely times when you'll think that this was the biggest mistake you ever made. It's not. You'll realise that when you get back home. But it's not just about sticking it out, you also should be wary of other influences. Doing it your own way takes a bit of pig-headedness sometimes, otherwise your trip may be spoilt by your passiveness. People you meet on your travels will try to persuade you to do all sorts of things, from parting with money to changing your plans completely. Do what you want, this is your trip.
Wisdom
This may seem a strange one but we're not saying that you need a flowing white beard and a wealth of life experience - after all, what better way to gain life experience than to travel? A little common sense coupled with a natural gift for perception are particular qualities of the expert traveller. Such qualities will help keep you safe, avoid getting robbed or conned and seek out the best paths to follow.
Adaptability
There's a whole new world you're going to discover out there and some of it is very, very different to home. You have to be comfortable with change, be prepared to eat strange foods, sleep in strange places, even breathe strange air, without going mad with homesickness. However, the strangest, and possibly the most wonderful thing you'll encounter is the vast diversity of cultures and people. Tolerate that which you don't like and don't be judgemental; and immerse yourself whenever possible in the things that grab your imagination.
Luck
Better an ounce of luck than a pound of gold - what more is there to say?
All of the above will serve a person well in any aspect of life but it doesn't mean that if you're lacking in one or two departments you can't take a trip alone. Many of these qualities will be gained along the way and there's no need to plunge yourself into a Homer-style odyssey just yet. There's a wealth of information at your fingertips and a wealth of experience to be gained - and lots of fun to be had along the way. Moreover, you may just find that you never knew what you were capable of until you go out there and do it.
You might also like...