Hiring a Personal Guide When Travelling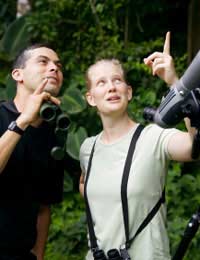 If you want to ensure you enjoy your holiday to the maximum you could consider hiring the services of a personal guide. If your destination provides you with a once in a lifetime holiday experience you will undoubtedly be hoping to enjoy all of the sights, as well as the richness of the local customs.
You could obviously plan every detail of your trip in advance, and be organised enough to make all the necessary arrangements when you arrive at your holiday location.
Or you could make life so much easier by paying a local person to show you their town/city's many charms and treasures.
How to Find a Guide
There are many Internet matching agencies that can find you a local guide at your request. These are generally students or retired people who are life-long residents of the community you wish to explore. Even if you are a confident traveller, and can generally tackle the local customs and attractions with little difficulty, as a solo traveller it is worth your while considering the benefits of hiring a personal guide.
The Benefits of Hiring a Guide
If you are a solo traveller staying safe will be of great importance at all times. Whilst picking up tips from guide books may be helpful, being in the company of someone who is familiar to the area you are visiting will be much more beneficial to you. Not only will you be able to explore the hidden charms and treasures, of your destination, that most tourists may not be able to enjoy, but you will also have an opportunity to practice your language skills and to make a new friend too.
A personal guide will also plan to include your specific requirements, so you will be guaranteed a unique experience. An alternative to this is to make arrangements to join a larger party of travellers – perhaps other solo travellers staying in the same location – who can hire a tour guide, complete with transport, for the day.
How Much does a Personal Guide Cost?
The cost of a personal guide will vary from location to location, but generally you will be making an additional contribution to a student or retired person, so the rate payable may not be as costly as you would expect. Usually you will be expected to pay by the hour, although some guides are happy to work in exchange for gratuities.
Specialist activity holidays can provide fully escorted tours, at an additional cost, which will vary according to destination and activity. You could however, secure the services of a native New Yorker, for as little as $25 per hour.
Beware of the Con Man/Woman
As with any service provided for the traveller always be sure you find your personal guide through an established company or via word-of-mouth. Whilst there are a number of established online travel companies offering the services of reputable guides, you may also come across adverts – particularly once you have arrived at your chosen destination – that have been posted by inexperienced locals hoping to earn some quick cash. Always make sure you know what your money is paying for, and if in doubt ask for recommendations.
You might also like...