Advice for Women Travelling Alone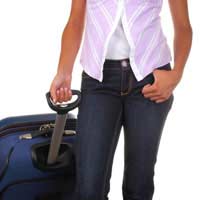 The temptation of travelling alone offers countless possibilities and opportunities for adventure and is becoming more popular than ever before - and the number of women opting for solo trips in recent years has increased even more sharply than the number of men. Around 45% of solo travellers are now women - a sign of the times undoubtedly, and an encouraging one for those with a thirst for adventure but a fear of the big unknown.
A slightly less encouraging statistic however, is that 79% of those lone female travellers would prefer to have a companion but have no choice. But is the glass half full here or half empty? Should we bemoan the fact that with independence comes loneliness, or instead celebrate the fact that more people than ever now simply decide to go off and follow their dreams regardless? Because the truth is, there's never been a better time to take the plunge and go travelling alone whether you're male, female or something else.
Companionship and Security
If you are a woman considering travelling alone, well, you're er, not alone. Forty percent of lone female travellers aged over 35 have no 'natural' travel partner such as a spouse or close friend. Moreover, there are great advantages to be had as a woman travelling alone. A lone woman will usually find it easier to meet people and make friends than a man, and generally speaking, commands respect and admiration from men and women alike for her independence. Also, if you choose to hitch-hike, a lone female is the statistic most likely to get a lift, though this course carries obvious dangers.
Most women with doubts about travelling alone cite the lack of companionship and security as the two greatest negative factors. If you're one of the 79% who would rather not travel alone then fear not: thanks to the growing demand, there are countless opportunities nowadays for women to find other women in the same situation and some quick research on the internet will bring back a wealth of information, from women-only travel groups and package trips to simply finding travel buddies online.
Things to Bear in Mind
As a resource the internet is invaluable, but not just for finding useful sites and organisations - it's also a forum, quite literally, for you to find people who have done what you want to do and ask them personally about any issues you have in mind. Here are a few common samples of advice taken from various forums.
Pack Light: When travelling alone, the sheer volume of baggage you carry is a greater factor than you would think. Most airlines now have a weight limit of less than 23kg (about 50lb) per bag for one thing; then there's the question of carrying it all up and down stairs in airports, train stations and underground stations in rush hour.
Male Attention: Be aware that flirting or provocation are based on wholly different norms and social fabrics in every country. For example, simply making eye contact or accepting a drink can be construed as a serious come-on in some countries. Also, the law in other countries varies as to what may be considered provocation or even consent. Wearing a wedding ring is an internationally understood deterrent if that's what you want.
Self Defence: Do not carry any weapons other than a can of mace, and check whether the law in your choice of destination allows even that. Always carry a mobile phone for use in case of emergency.
Hygiene and Sanitation: Bring your own toilet paper, pads, toilet paper, sanitizer, toilet paper, condoms… and did we mention toilet paper?
Dressing Appropriately: Check out in advance what constitutes 'appropriate dress' and bear in mind that lone women are very often mistaken for prostitutes in certain places.
Other Useful Things to Take: A small handbag, just big enough for your valuable documents etc. yet small enough to hold on to at all times rather than set down; comfortable shoes; compact make-up; maps.
And Finally: If you think walking in heels is bad enough in Britain, bear in mind that much of the rest of the world does not have as good quality roads and paths as we do; and maids do steal from hotel rooms, it's a fact, so don't carry anything valuable that is not essential.
You might also like...