Importance of Immunisations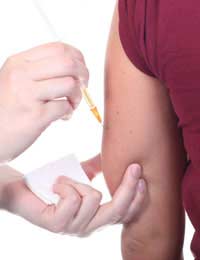 One of the most fundamental aspects of your travel preparations is finding out which immunisations you need and how to go about getting them. If you're not a fan of needles, it's time to take a stiff drink and get ready to bite the bullet, because you may be seeing quite a few of them if you plan on going further than the Cote d'Azur!
Also to bear in mind, is what you plan to be doing - for example, a Rabies shot may be deemed unnecessary if you don't plan on being around rabid animals, but then again, who does?
Before you begin your research as to what you need, you should ensure that you're up to date with all of the routine vaccinations that are standard for all of us - Tetanus, Tuberculosis, etc. Many of us receive these vaccinations as children but this depends on how long ago you went to school. Consult your GP to find out what vaccinations are on your medical record. It may be the case that you just need boosters for injections you had a long time ago.
When and Where?
Ideally, you should get all vaccinations over and done with at least four to six weeks before your departure. However, if you need several different vaccinations it's highly advisable to space them out, so as not to blitz your immune system with appetisers of every nasty disease all at once. In other words, you should begin as soon as possible!
Even if your departure is less than four weeks away, later is better than never. Consult your GP to find out which are the most important jabs to get.
You can get most of your vaccinations administered by a nurse at your local clinic, just let them know what you need (see below) and make an appointment. If you're not sure where your nearest clinic is you can find out quickly and easily on the NHS website (www.nhs.uk). Most vaccinations are free but some are not. If you're concerned about the price your GP can advise you as to the importance of the more expensive jabs depending on where you go.
Side Effects
The worst side effects you can expect consist of some mild nausea, drowsiness and light-headedness the day of the jab; general tiredness and of course, a sore arm. It's probably best not to drive or operate machinery but most healthy adults should be ok. If you have any pre-existing medical conditions it is essential you talk to a doctor about them, preferably your own. There is a slim possibility that you will have an allergic reaction to certain jabs. If you experience any severe problems other than those described above you should seek medical attention.
What Vaccinations do I Need?
This depends entirely on where you're going and what you're doing. You can find out from the Travel Advice section of the Foreign & Commonwealth Office website (www.fco.gov.uk) and on the Department of Health website (www.dh.gov.uk), but ultimately your doctor should be your final and authoritative point of reference. Tetanus booster jabs and Hepatitis A and B will almost certainly be part of the package; Malaria, Yellow Fever and Japanese Encephalitis may well also be necessary.
Travelling to the far flung corners of the world is a truly unparalleled adventure and it's certainly worth sacrificing many things to live that dream, but your life isn't one of them. When it comes to your health it's not worth taking risks and protection against disease and infection is fundamental to the adventure - a quick prick in the arm now may save you from a horrific, slow, lingering death, so bear that happy thought in mind when waiting for that dreaded needle!
You might also like...