Meeting People and Making Friends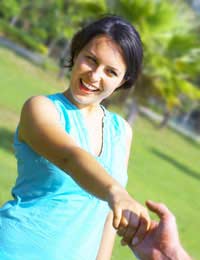 People choose to go travelling alone for various reasons - one of the most common is that you simply can't find anybody else to go with, and sick of waiting around for friends or family who have their own ideas about what to do and where to go you decide just to do it on your own.
It could be that you relish the challenge of travelling alone and crave the new-found independence it brings, or simply that you enjoy your own company and rarely feel the need for human contact. It's fair to say however that even the least sociable among us do occasionally enjoy the company of others. Solitude is only one of many reasons to go travelling alone, while the opportunity to meet new people and make new friends is undoubtedly one of the most attractive things about any kind of travelling.
The Travellers' Bond
Whether it's in an airport in a big city or on a trail in the middle of nowhere, like-minded travellers usually share a sense of solidarity that unites them - the most obvious example being the beautiful sight of some flushed and wheezing, backpack-laden tourist just like yourself sticking out like a sore thumb among locals! Back at home, we don't speak to strangers on the bus or in the street but in far off lands a little friendly interaction with other Brits, or indeed any other English speakers, is perfectly commonplace. While at home you may have nothing in common with the person sitting next to you, abroad you most certainly do.
In fact, the bond seems to stretch further than just the licence to talk to total strangers. It's human nature to stick together and help out other members of your tribe when you're in foreign territory and many a lifetime friendship has been born in such a way. But that's not to say that the only people you're likely to bond with is your own kind.
The Lure of the Exotic
With certain exceptions, most of us find people from foreign countries an fascinating entity. We like to welcome them into our towns and are interested by their alien evaluation of the things we take for granted: Why do we have separate hot and cold taps for washing our hands in the bathroom? Why don't we wear coats when we're out on the town on a freezing cold night in January? We're interested to learn from a first-hand source about the places we've only seen photos of or heard about vaguely. The same goes in most other places too, and although many people may feel that British culture is pushed in the face of much of the rest of the world, it's also true that many people are besotted by Britain and our eccentric ways.
All in all, whether it's down to your celebrity status as a foreigner or your bonding with fellow countrymen in a strange land, you'll find it's often far easier to meet people and make new friends when you're off travelling than it is in your very own home town. Indeed, some might say that in a certain sense, there's no such thing as travelling alone. There's no doubt that travel broadens the mind and with that broadening of the mind comes a broadening of horizons, and a sense of self-knowledge and self belief that allows one to overcome the inhibitions we usually have when interacting with strangers.
You might also like...